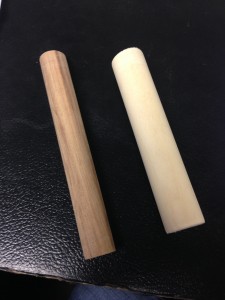 Our dowels hard woods such as oak, beech, maple, walnut, mahogany hickory, and birch – the current wood offerings are listed on our homepage.  We do not purchase our stock from area home improvement companies. We use wood that was destined for the landfill. We select the best wood for our dowels. They not only perform well but look great! The wood is stripped down bare and processed from there.
We have tried the softer woods but they just do not work as well (they DO work, it just takes time and patience). Oak, red oak, beech, birch, walnut, and maple work on all bells with walnut working wonderfully on higher bells (C5 and up) and all lower bells (G4 and below – including all 3's). And since the bells tend to leave markings on the dowels, you know that the bells are not being damaged (ah, yes, high school Science 101).
You will find that they are not sanded smooth. This allows the dowel to start the vibration of the bell sooner. These dowels will usually start a G4 bell (one of the hardest to get going) quickly (3-5 rotations). 50 grit sandpaper will roughen up any dowel to help start the Singing Handbell technique.
7″ walnut and 6-1/2″ birch shown.