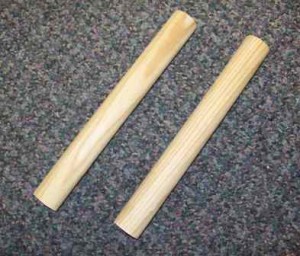 Brought to you by THIRD BELL ON THE RIGHT – www.ThirdBellontheRight.com, a Handbell Musicians of America HIC member. Check our Photo Gallery for some of the items we will be offering at our booth.
What is a singing Handbell (also called the Singing Bell Technique)?
A beautiful sound resulting from a technique that requires the musician to rub a wooden dowel around the rim of the handbell. Singing handbells resemble the technique used to produce sounds from a crystal glass by rubbing a dampened finger around its rim.  The wooden dowels do not need to be dampened. The technique works on all (C4-C8) handbells but does require some practice.
Larger bells may require a "tap" to start the sound (but try doing it without tapping first). C3 to B3 are an example. C4 and up can be started without the tap. If the dowels seem a little rough, don't worry! This helps. In fact, if you find a dowel that is not cooperating, use a piece of 50 or 80 grit sandpaper and rough it up a bit.
Where are they used? There are several compositions written that incorporate the singing Handbell technique. My favorite is How Can I Keep from Singing by Robert Lowry and arranged by Arnold Sherman. Click here for the link to Handbell World and this song.
With your purchase you will receive detailed instructions for you and your musicians.
Why our dowels?
Our dowels hard woods such as oak, beech, maple and/or birch.  We do not purchase our stock from area home improvement companies. We use wood that was destined for the landfill. We select the best wood for our dowels. They not only perform well but look great! The wood is stripped down bare and processed from there.
We have tried the softer woods but they just do not work as well (they DO work, it just takes time and patience). Oak, red oak, beech, birch and maple work on all bells. And since the bells tend to leave markings on the dowels, you know that the bells are not being damaged (ah, yes, high school Science 101).
Dowels are 5.25″ to 5.5″ in length – dowels will be equal in length but might contain both lengths (choices always help). We have found that this size will work on any of the bells. The diameter of the dowels are 7/8″ to 1-1/2″. Your order will include a variety of diameters and wood type.
You will find that they are not sanded smooth. This allows the dowel to start the vibration of the bell sooner. These dowels will usually start a G4 bell (one of the hardest to get going) quickly (3-5 rotations).
How much to ship?
$3-$5 per order. Any shipment over 7 dowels will ship Priority mail (I pick up the cost difference on the shipping).
I have UPS shipping available. If you are needing these quick (overnight, 2 day or 3 day shipping), email me for a shipping quote. Since I ship UPS daily, your shipping costs will be exactly what I pay. No handling and/or packaging costs!